The drummers of the Wocoas, a european tribe of WebObjects and Cocoa developers, are beating their drums again. Just right after WWDC seems to be a good time this year: some Tiger talk, new gadgets and widgets. What else does it need for a geek weekend?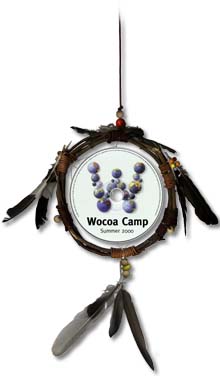 As usual this event will try to be as unorganized as ever. Please do not expect a regular and boring trade show or conference but bring your drums, sleeping bag and PowerBooks instead. This is a coming together and a sharing of knowledge and wisdom.
The Location
This time our host will be the ObjectFarm and so we are gathering close to Würzburg in northern Bavaria
Stierhöfstetten (Germany)
Sat, July 10, 2004 - 12:00 until open end!
Sun, July 11, 2004 - breakfast brunch and chill out

Full details about the location will be mailed to all those who register.
Registration
If you intend to join us, please send a message with your name and preferred email-address to:
smokesignal@wocoa.org
as soon as you can. Both are necessary for your name badge. And ...
if you want the name of your tribe or company to appear on your name badge, please tell us what it should be.

if you have a cool application that you would like to demo to other people, or have an interesting topic that you would like to share with other dancers - just let us know. We will publish these topics on this webpage and the peoples mailinglist, so that others will know who to talk to.
After registration you will receive a confirmation mail and a second mail with the exact location details, shortly prior to the event. You will also be added to the people@wocoa.org mailing list unless you explicitly state that you do not wish to be part of it.
We do not charge any fee for attending this Pow Wow but you will have to cover your own expenses.
You must register because we need to know how many Wocoa dancers will stomp our tipi. Otherwise we cannot guarantee to find a place big enough for all of us.
Warning
Please note ... while we do have a beamer and slow ISDN internet connection in place, please be aware that "sharing an interesting topic" should not be read as "giving a full blown hyper complicated sales presentation of your product and having the right to be depressed if nobody cares to listen". Our Pow Wows are organized chaos ... you have been warned!
Like in the past we will limit the presentation time to 15 - 20 minutes each, so that enough time will remain for getting into private conversation without missing any "demo dances".
Planned Dances
Like during previous events we are again looking forward to welcome approximatly 50 motivated and creative Wocoa dancers. So far we know about the following dances (the order represents the order in which we received the notice):
Jacek Kaczmarek, Power Media Sp. z o.o.

"Know your app", non-intrusive tracing of WebObjects applications in production.

David Teran, cluster9

Something cool about "continuous integration" or "webservices" (Demo)

Georg Tuparev, Tuparev Technolgies

RTML ... remote telescope markup language and Mac OS X in the astronomy
"EssentialBusiness" ... your business outsourced on the web (Demo)

Helge Städtler, EverLearn.org

WO Deployment with "Mission Control v1.1" (Demo)

Michael Müller, Condat AG

WebObjects and Bytecode Enhancing:

2 approaches: Javassist vs. AspectJ load time weaving
2 examples: scriptable WOComponents and "WOComponent tagging" (Eclipse plugin demo)

Helge Hess, OpenGroupware.org

CocOOo, working on OpenOffice.org files (Demo)

Stephan Fürnrohr, Selbstdenker AG

The "magic" of the SDFramework. (Demo)

Andreas Beier, c't Magazin

Bluetooth Programming in Cocoa and the BlueMP3 project. (Demo)

Wocoa drummers

The latest WWDC gossip and Tiger talk.
Where to get food, a warm place to sleep and ... what are all those horses doing around here?
If you also want to demo something special or have knowledge that you are willing to share, please contact us at drummers@wocoa.org and tell us about it, so that we can add you to this list.

Accommodation and Traveling
Right on site there is room for at least 20 people in regular appartments. So if you are planning to stay overnight, please say so in your registration. We can also offer places for tents and camping busses.
You can travel to the gathering place by car or train. Nürnberg is the closest airport and requires another hour of train travel. Those who are arriving by train will get picked up at the station (it would be a long walk otherwise). So there is no need to travel with the car. Full traveling details will be provided to those who register.
Sponsors
This Pow Wow will be organized and sponsored as a joined effort by Academy, cluster9 and the ObjectFarm people.
Beat the drums
We hope that you send the necessary smoke signals to your friends and that you tell them about the Wocoa Pow Wow. The more dancers come - the better and louder our Pow Wow will be.
Share and Enjoy.
The Wocoa-Drummers