Since Flevobike handcrafts all bikes in their own factory, it is no problem to get a customized version to fit your size or requirements.
My plans where to try to design my own Greenmachine based on the existing Amigo frame, and so they tried to help me.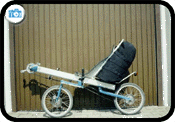 11. Current state...added tailsack
I baught a stripped down frame with mounts for a Sachs PowerDisc brake at the front and rear fork. Besides being a great brake system it offered me the chance to use a 20'' or 26'' wheel on the back without running into major problems which I would have to face with rim brakes.
I also managed to exchange the ugly new seat (Flevo switched to a mesh style seat as they use it for the "Basic") for one of those cool (but used) original aluminum units at a recumbent shop in Eindhoven (de liggende hollander).
Now I was set to go and the development of my personal GreenAmigo was planned to take place in a couple of, more or less, simple steps.
During the first step I equipped the naked frame with all the missing technical goodies (mostly Sachs Quarz parts) and placed my old MTB's rear wheel into the back.
This served as a "gettin'-used-to" setup where I made my first recumbent riding experience and tested the useful gear range.
Using two different wheel sizes does not only make this particular bike look less elegant but it also is less convenient since you have to keep spare parts for both wheel sizes (especially on tours).

For this reason the next step was to combine a 20'' (406) rim with a Sachs Quarz 3x7 hub and put in where it belonged.
The resulting bent now came a lot closer to the Greenmachines look, and it felt a little speedier since the bottom bracket got raised a little higher and the seat position got more reclined so that it became less like to get lifted out of the seat during powerful pedaling.
Some of the last changes were that I flipped the crank unit, so that the bottom bracket got a little lower, and that I equipped the bike with clipless pedals.
Still I am far from having reached my goal. My aim is to encapsulate the chain (at least in the front part of the bent) so that I can ride with warm and wide pants in winter without getting oiled all over.
In the short term I will build a new panier rack which will incorporate a stand made out of some "windsurfing" gear. It should enable me to lift the rear wheel even with the bent fully loaded.
In the long run things should turn out as my GreenAmigo draft ...basically I want my Greenmachine...
If you are interested in more datails then follow me to a detailed description of the technical details and changes which have been made to the transmission system and frame construction..