Many suns have risen in the east and set in the west since the first gathering of the Wocoa people.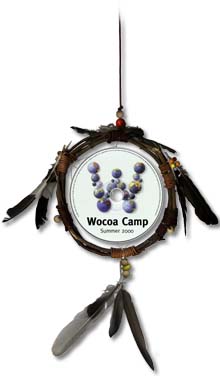 Most brothers and sisters enjoyed our last Pow Wow in Berlin and wanted to continue sharing their rhythms and tales about WebObjects and Cocoa development in the future. So the Wocoa drummers decided that they will beat the drums this summer too, so that our people can share their dreams.
We are glad to see that Apple decided to make our next Pow Wow even easier to remember, by releasing its wild cat, Mac OS X Jaguar, on exactly the same day.
As usual this event will be as unorganized as ever. Please do not expect a regular and boring trade show or conference, but bring your DVDs, guitars and PowerBooks instead.
The Location
This time we are gathering in the settlement called "Amsterdam" in the Lower countries (Netherlands), where canoes are the main means of transportation and people smoke strange plants. Our host this time will be the tribe of the Tuparevs.
It will all happen on the last weekend in the month of the thunder
Sat, August 24, 2002
Full details about the location will be mailed to all those who registered.
Registration
Since Amsterdam is a very popular place to hang around, canoes and wigwams are difficult to find on short notice. So if you intend to join us, please send a message with your name and preferred email-address to:
smokesignal@wocoa.org
as soon as you can. Both are necessary for your name badge. And ...
if you want the name of your tribe or company to appear on your name badge, please tell us what it should be.

if you still have your name badge from a previous Wocoa event please tell us and reuse it.

if you have a cool application that you would like to demo to other people, or have an interesting topic that you would like to share with other dancers - just let us know. We will publish these topics on our webpages and the peoples mailinglist, so that others will know who to talk to.
After registration you will receive a confirmation mail and a second mail with the exact location details, shortly prior to the event. You will also be added to the people@wocoa.org mailing list unless you explicitly state that you do not wish to be part of it.
We do not charge any fee for attending this Pow Wow but you will have to cover your own expenses.
You must register because we need to know how many Wocoa dancers will stomp our tipi. Otherwise we can not pick the right place and we cannot guarantee to find a big enough place if you register after
August 5th.
You might miss a great canoe trip through our settlement's channels if you register after August 10th.
The Big Plan
The plan is fairly simple and looks like this:
Fri, Aug. 23.
"Early bird evening boat ride"-special in Amsterdam
(registration required prior to Aug. 10th - we find the canoe,and you have to pay your share)

Sat, Aug. 24.
A long day of OS X, Cocoa and WebObjects geek talks and demos
(registration prior to Aug. 5th recommended; it would make our life easier - we find the place and you are welcome free of charge)

Sun, Aug. 25.
Hangout in lovely Amsterdam
(its all up to you)
Like during previous events we are again looking forward to welcome 80 - 100 highly motivated and creative Wocoa dancers.
Planned Dances
Over the following weeks we will fill this section with a list of names and topics. Those are the people that are willing to share some of their wisdom with the rest of us. They are not official speakers but will also not hesitate to speak to a larger crowd if there is enough interest in listening to their tales and watching their demos (the order represents the order in which we received the notice)
Piers Uso Walter, ilink

Integrating CTI into Mac OS X applications

Erik Dörnenburg, Mulle kybernetiK

MulleConnectInspector: InterfaceBuilder Enhancements
MulleAssociations: DisplayGroups and Associations without EOF
ED Frameworks: Processing and generating XML
ED Frameworks: Working with MIME Mail and News messages

Helge Hess, SKYRIX Software AG

IB JavaScript'ing using MulleConnectInspector
accessing SKYRiX groupware backends in Cocoa using XML-RPC
XML-RPC based WebServices, SandStorm

Anjo Krank
Marcel Weiher, metaobject

the usual: CocoaSqueak, Higher Order Messaging,...
PdfCompress, WhiteLightning (PS->PDF), TextLightning (PDF->RTF)
IDeAs made of dynamic Postscript
Constraint-Solving, a better IDeA than IB?

Marco Scheurer, Sen:te and
Marcel Weiher, metaobject

Autoreleasing Accessors Considered Harmful (Petition)

Stéphane Corthésy, Sen:te

GPGMail, the PGP plugin for Apple's Mail.app. (Demo)

Stéphane Corthésy, Sen:te

GPGMail, the PGP plugin for Apple's Mail.app. (Demo)

Frans H. Schippers, DéMacWinkel

Take a first look at an Xserve. (Demo)
Buy your Jaguar right here ... right now.

Ronald Oussoren

PyObjC - Writing Cocoa applications in Python. (Demo)

Drew McCormack, Trade Strategist

Trade Strategist - a Cocoa based financial software. (Demo)
Let's talk about scientific programming with Cocoa.

Michael Oesterreich, theCo.de AG

"theCMS" - a Java WO framework with WYSIWYG Content Management functionality. (Demo)

Dimitri Tischenko, Proteon

Serving 1.5 million requests per day with WebObjects. The architecture of OneHello. (Demo)

David Teran, cluster9

See how WODynamizer automatically converts static HTML pages into a true WO-App. (Demo)

Carsten Brinkschulte, weblicon technologies ag

Calmeno is a complete mobile office solution and was build using WebObjects and a JavaClient. (Demo)
Generating cHTML (i-mode) with WebObjects 5. (Demo)

Imdat Solak

Halime, a native Newsreader for Mac OS X written in Cocoa. (Demo)

Wocoa drummers

Tipps about what you might want to do during this weekend.
If you also want to demo something special or have knowledge that you are willing to share ... please contact us at drummers@wocoa.org and tell us about it so that we can add you to this list.

Accommodation
Since most of you are coming from far away places and will hopefully beat the drum until the late evening, we think that a place to sleep might be something you are looking for.
Stay tuned for a list of hotels. It will also be posted on the events mailinglist and should be most up-to-date on the Wocoa page at Tuparev Technologies.
Sponsors
This Pow Wow will be organized and sponsored as a joined effort by Tuparev Technologies, Codeon GmbH, ilink GmbH, Mulle kybernetiK, the Objectweavers and the ObjectFarm people.
Beat the drums
We hope that you send the necessary smoke signals to your friends and that you tell them about the Wocoa Pow Wow. The more "Indians" come - the better and louder our Pow Wow will be.

Share and Enjoy.

The Wocoa-Drummers