Why you were not able to find a motel with a free room in San jose from the 15 'til 19 May.
Was visiting WWDC 2000 worth it?
It was our second trip to the Apple Worldwide Developer Conference after we (the NeXT geeks) became part of the Apple community. More then 3500 people have flocked into the south of the Silicon Valley, which was a 50% increase over the last year and almost too much for this area. We spend long hours on monday night cruising around San Jose in order to find a free motel room for the next five days. San Jose was basically booked out.
We ended up in Morgan Hill and learned a little bit about traffic jams on 101 after last year had taught us a lesson about public transportation and the California train system. A warm sunny welcome weekend started a cold and rainy weather period, which made it less painful to spend almost the coming five days almost entirely inside the overcrowded halls of the San Jose Convention Center and the Civic Auditorium.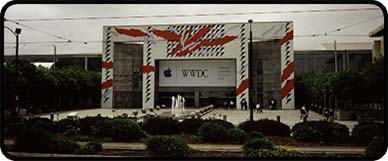 The keynote hall was crowned, and some attendees even had to watch it on the screen in overflow seating areas, when Steve Jobs kicked off the event.
The big Announcements
Well known rumor mills were busy predicting major announcements but none of them happened. Apple was strictly focused on making this a software-only event and filled its operating system strategy with all the necessary details. All in all the keynote reiterated the OS X message. However a few interesting notes could be made.
Most WebObjects developers already knew that the next version would go 100% Java and that deployment on Linux machines would thereby become possible. But the new price tag of $699 was beyond everybody's imagination. Getting so cheap might be too cheap. The IT manager have always accepted high prices for professional solutions and with the rise of Linux they started to allow open source projects to invade their servers. But a low price package? $699 ? Will they understand that this is still cutting edge technology.
This move clearly puts WebObjects within the teach of the "masses" (and it was place side by side with QuickTime and Mac OS X) making small scale or even shrink-wrapped solutions possible. You might be able to buy a WebObjects product in your favorite Computer store. Quiet a radical change from the traditional audience.
Apple will launch its iServices department, which now no longer will live from license fees only but actually will go out and create custom solutions. One might say "finally they have to do some real work too" but on the other side they are now beginning to compete with other existing solution providers. Some were not too happy with this shift because iServices sure has an advantage over the external companies (access to Apple internal mailing lists, bug databases etc.). However, we are convinced, that as long as there are more projects then developers this will remain a healthy ecosystem for all of us ... so: "Welcome iServices"
Maya is one of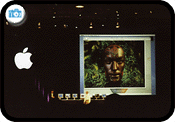 2. Demoing Maya's particle drawing engine

the most regarded 3D animation packages which currently is only available for SGI machines. The rumor of a port to OS X was out long ago but disappeared from the radar many month ago. This year they gave a demo and made the official announced that Maya will be coming to Mac OS X.

During a later session we learned that Maya was build using Apples new ProjectBuilder and that the entire Mac OS X system was build using the new dev-tools as well. So Apple is really after its own dog food.

As many expected there was a new release of Mac OS X waiting in the hallway after the keynote. Instead of a final beta Apple handed out Developer Preview 4 (DP4) which included the demoed Aqua modifications and was complete enough to support most technologies which were covered during the following sessions.

The Convention Center was totally AirPort'ed and compared to last year the amount of laptops did increase dramatically. A fair number of people had DP4 installed by the end of the day and most had in up and running by the end of the week. Some happily enjoyed a triple boot setup (Mac OS / X / Server) and worried why the Carbon Internet Explorer crashes when you tell it to not install as the default browser. Others got their apps ported over night and were ready to ask those nasty questions during the sessions which were yet to come ("Let's assume I ported Quake to DP4 and get no Sound ... what am I doing wrong?")
Meet the community
One of the interesting aspects about the WWDC is that during that single week you meet more people from your own country, with whom you always wanted to chat with, than you did over the past year at home. Stepwise held a BOF for the Cocoa geeks. The level of old NeXT developers was fairly high but compared to last year there have been significantly more attendees with Apple-roots.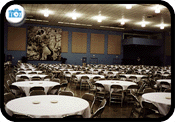 3. Feeding 3500 descendants of the apes

The WebObjects team organized a second BOF in cooperation with the BANG user group. Now that Mac OS X Server is more or less history, Ernie seemed to have moved to marketing WebObjects and could organize the Civic Auditorium for this event.

Many old time WebObjects/NeXT people came to get a few demos of WO-solutions (mainly content management) and dive - once more - into the discussion about moving from Objective-C to Java only.

Feeding 3500 geeks surely is a challenge to mass-food production ... and the food was really good. Standing in line and hanging out with different attendees during lunch was also very refreshing. This is the place where you can learn that Apple has a number of patents on EOF and why Enterprise Java Beans 2.0 might look a lot like WebObjects does today. You discover great business opportunities (www.savemymarriage.com: the portal that alarms you when your wife's haircut did change etc.) and enjoy some anecdotes about the life at and around Apple.

Yes, going to lunch and the late night food-events is worth as much as attending the sessions.
Getting in touch with the EXPO 2000
Rescheduling our flight back home turned out the be virtually impossible, so we could not stay and explore the Silicon Valley a little more. It seems like not everybody can take the train to Germany, when he wants to visit the EXPO 2000 in Hannover (opening on 1. June).
So we got on the plane and started to prepare our notes about this WWDC. This year Apple published many articles about the happening, but for in depth technical coverage visit stepwise were we contributed the following stories:
Java 2 and Aqua Overview
Quicktime Interactivity with WebObjects and SMIL
A new PrintManager surfaced
Additional features have been written which cover topics that have been discussed outside the regular sessions. The outcome might be interesting nevertheless.
That's all for this year. See you next year at the beer bash ...