(20. Oct. 2003)

Free prints at Farbglanz
If you are searching for professional grade photo development with an environmental touch, then you might be interested in Farbglanz. Recently we delivered a "free photo upload" service to their site, to help them to broaden their customer base.
(2. Jul. 2003)

7th Wocoa meeting, Q3-2003
The summer is getting really hot – the temperature has raised to 64bit. So tame your Panthers and join us at the next Wocoa Pow Wow. It will be held in Wroclaw on July 19.
(7. May. 2003)

Entrium - a real "Success Story"
After three years of development the OnlineBanking project, which we are coaching at Entrium Direct Bankers, is a real "WebObjects Success Story" and worth a feature article on the German Apple web site.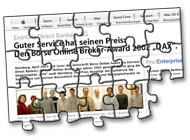 With the pending Entrium-DiBa merger the system

is likely to face a 200% increase of transactions in the near future ... and because WebObjects is a rock solid foundation and a truely scaleable application server, we simple do not have to worry at all. Ready to rock and roll ... diba diba duuu!

(18. Feb. 2003)

6th Wocoa meeting, Q1-2003
This winter we are moving towards the hilly area of western Switzerland. The next Wocoa Pow Wow will be held on March 1. in Lausanne. Would you like to join us?
(20. Sep. 2003)

DGS Unterfranken revived
As one of our first active steps in pushing towards a solar age we helped in reviving the Deutsche Gesellschaft für Sonnenenergie e.V. (DGS) in our local area. Together with other solar activists we formed a new executive board for the Unterfranken section of this society. Our near term goal is to establish new information centers for a solar age and to help in educating the general public about the huge potential of solar technologies.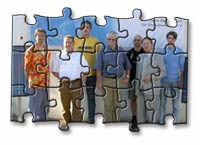 (15. Feb. 2003)

Sun vs. Oil - Peace vs. War
The situation we are facing now was neither unexpected nor unavoidable but here it is ... again: pending war for oil. The leaders of the "highly educated humane" world are ready to kill in order to satify their economies hunger for cheap oil.
Today we are joining the 10 to 30 million people, all around the world, who made a clear statement to their governments: "We do not want this war!".
But as long as we continue to ignore our 100% solar future; as long as we refuse to move away from oil and gas, there will always be a reason for yet another war.